TIME LIMITS:
| | |
| --- | --- |
| Solos, Duet/Trios | 3 min |
| Small & Large Groups | 3.5 min |
| Line | 4 min |
| Production | 7 min |
| Improv | up to 1.5 min |
**Extended time may be available (except for Improv).Please contact the office if you are over the time limit for any dance number.  (fees may apply)
Props:  please let us know set up time
GROUP SIZES:
| | |
| --- | --- |
| Solo | 1 |
| Improv | 1 |
| Duet | 2 |
| Trio | 3 |
| Small Group | 4 – 9 |
| Large Group | 10 – 16 |
| Line | 17+ |
Production:  
Production: 15+ dancers using props, musical theatre and staging techniques, There must be a theme to the Production otherwise it will be classed as a Line
AGES:
(age as of Dec. 31 – Drop Decimal)
Solos dance as their age or up one age group. • Duet-Production dance 3-4, 5: 6, 7,8, 9-10, 11-12, 13-14, 15-18,19+
| | |
| --- | --- |
| Tots | Up to 8 |
| Mini | 9 – 10 |
| Junior | 11-12 |
| Teen | 13 – 14 |
| Senior | 15 – 18 |
| Pro-Am | 19 & Up |
| Adults | 19 & Up |
MUSIC:
Music must be pre-cut and prepared

Please have a back-up of your music

Please make sure the version is CLEAN/family friendly 

otherwise a penalty may be applied.
REGISTRATION

A non-refundable deposit of $500.00 must be made to reserve your competition spot. Registration may be made before the due day of September 15th

'This Is It Dance Competition' reserves the right to add or subtract dates based on entries.

Dance studio Directors should contact us for entry fees.  

Early Bird effective to Dec. 15th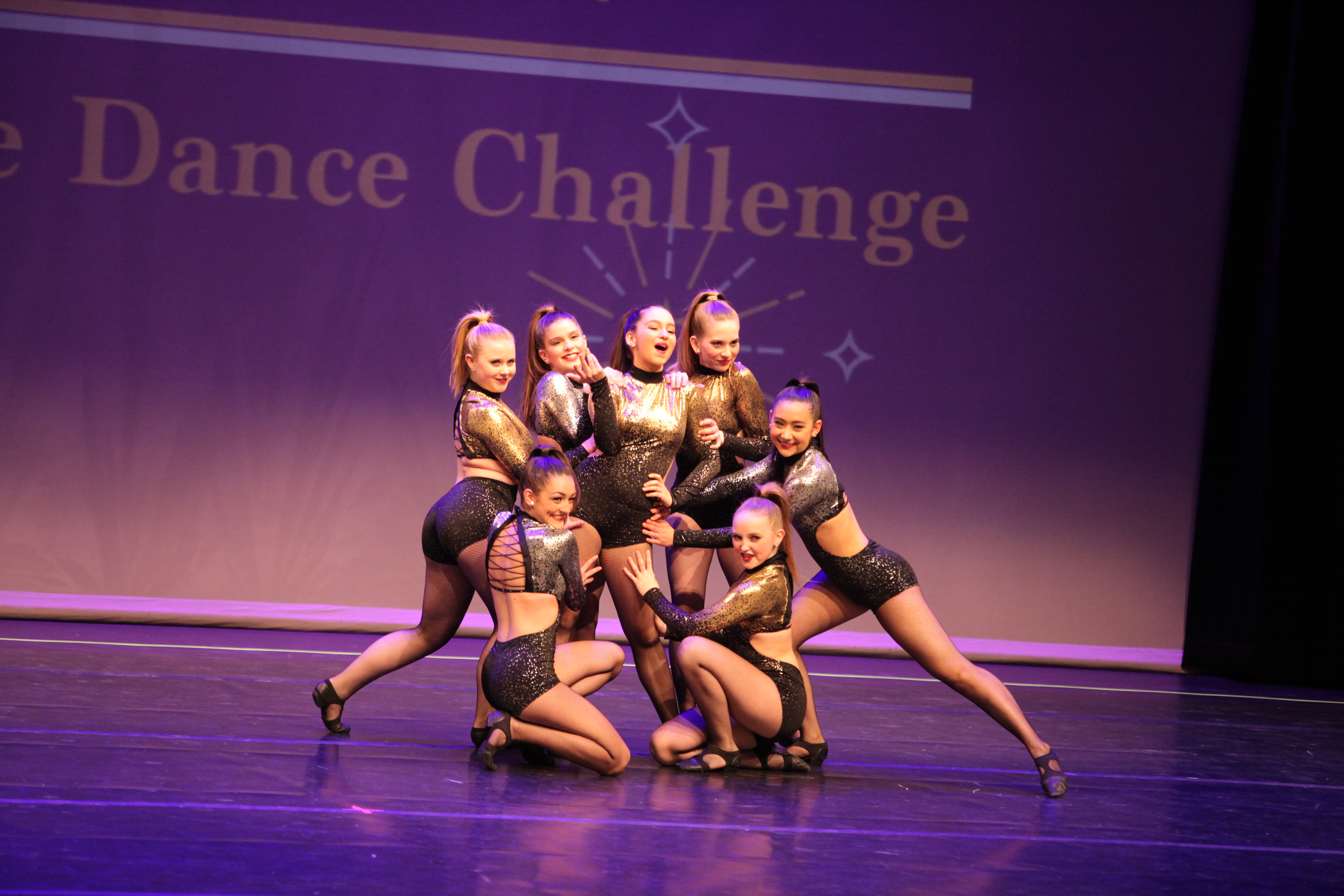 CLASSIFICATIONS
NOVICE – A Dancer(s) in their first season of competition.  A dancer competing in a novice solo may have participated in a competition before but not previously in a solo of any dance style. If the dancer has competed in a jazz solo in a previous season and this season is competing in tap solo that dancer is not eligible to compete in novice.
A novice group/line must be 100% novice, Solo/Duo/Trio's must be 100% novice.
A soloist can compete as Novice provided, they have not competed in a solo of any style in a previous season.
Separate overall awards are awarded for Novice Categories. If you're unsure of your dancer(s) classification, please contact us to discuss.
LEVEL 1 (Also known as: Recreational/Part-Time/Pre-Comp) – Dancer(s) who train 6 hours or less per week. A group must be 100% Amateur to compete in this division. If you're not sure about your group's classification, please give contact us to discuss proper placement.   Separate overall awards are awarded for Select Categories.
LEVEL 2- (Competitive Level) A Dancer (s) who has previously competed in a competitive dance season. Training more than 6 hours per/week.AD- A dancer who earns a living by teaching or performing dance.
PRO-AM ;   A dancer who teaches and works for monetary reward.  Not eligible for Overalls
Adult:  Routines for non-professional adults over the average age of 19.  Not eligible for Overalls
DANCE STUDIO ENTRIES



Dance Studios must have a minimum of 5 groups in order to qualify for overall awards
PHOTOGRAPHY AND VIDEOS
Choreographers, teachers, students and parents automatically grant permission to This Is It Dance Competition and its Directors to use, without any compensation whatsoever, their photos and videos for publicity and promotional purposes, including but not limited to ads, television, videotaping and broadcasting, social media, web or print.
RE-DANCING
Dancers who do not complete their routine will have the chance to re-dance. Dancers will still receive an award according to their score but are ineligible for overalls. Junior, Intermediate and Senior Advanced dancers who choose to re-dance will not be eligible for placement in the category or overalls and will dance for adjudicators' comments only. All dancers who experience technical difficulties can re-dance with no penalties.
PROHIBITED PROPS
No dangerous props to be used on stage, such as fire, swords, or knives. No weapons of any sort. This is It Dance Competition has the right to reserve the use of specific props according to the venue's guidelines and restrictions.
BACKSTAGE
This Is It Dance Competition asks that Dance Studios help maintain a clear backstage area. Studio Directors and teachers are permitted at all times. Students may wait backstage up to 5 numbers before their performance. We ask that all studios respect one another. This Is It Dance Competition does not permit any negativity or booing towards any performers.
In order to qualify for overall awards a minimum of 5 group numbers must be entered by a studio with the exception of our Level 1 division you must enter a minimum of  3 group numbers in order to qualify for Overalls. If a dancers does not dance in their scheduled category when there are other competitors and dances at a later time they will not be entitled to qualify for overalls awards however a dancer may dance ahead of schedule and their mark will be held until the category has danced. If they choose to dance after the category has already danced they will dance for a mark only and will not qualify for overalls!

This Is It Dance Competition reserves the right to add or subtract days or move a competition due to unforeseen circumstances.

All award money is awarded to the studio Director!

A contestant making a second attempt to a routine may be adjudicated and will be marked but will not place in the category or qualify for overall awards, except in the Novice division.

Only teachers can be back stage, in the wings or in the music area during the competition, all others will be asked to leave.

Prohibited – Video taping and photography of any kind this is for the safety of all dancers, our events are a non ticketed open door show which means anyone can come and watch, therefore this is the reason that we DO NOT allow any photography or video taping of any sort, do to the safety of all dancers. Also Prohibited are live animals and any routines that contain fire pyrotechnic devices, swords and knives, failure to comply with this policy could result in disqualification!

NEW – absolutely NO baby powder, gels, paint, dirt etc. to be used during a routine

This Is It Dance Competition reserves the right to cancel any competition if enough entries are not received to run the competition.

By entering the competition, Parents, instructors, Directors, and contestants give their permission to This Is It Dance Competition to use their pictures and performance in advertisement (e.g. Brochures, programs, on our Website, etc.)

This Is It Dance Competition reserves the right to refuse individual or studio entries at their discretion, in which fees will be refunded. Refunds will not be made for any other reasons except for injuries (with a doctor's note) in which a credit will be given to use at future This Is It Dance Competition Regional.

No smoking or eating in the competition area.

By entering This Is It Dance Competition you agree that all decisions of the judges are final, the manner and method of the judging is solely within the discretion of the Director of This Is It Dance Competition

Upon entering This Is It Dance Competition, it is agreed that teachers, competitor's, parents, and relatives will not hold This Is It Dance Competition directors, employees and all involved in the competition responsible or liable for any damages, loss or personal injury which they may sustain while participating in any activity connected with this competition, no matter how caused, to either contestant or spectators.
DISCLAIMER
This Is It Dance Competition reserves the right to cancel any competition if inadequate entries are received to run the event.
This Is It Dance Competition will not issue refunds or be held responsible for sudden cancellation or time lost due to extreme weather, bomb threats, terrorism or any other extraneous circumstances.
This Is It Dance Competition will not be held responsible for injuries, damage and lost or stolen property over the duration of the competition.
This Is It Dance Competition will not be held responsible for any additional fees incurred (i.e. Parking fees, parking tickets, etc.) by dancers, teachers, studio owners or any participants while attending one or more of the events.
To be entered at This Is It, payment in full must be received with your entries by a Studio cheque or eTransfer.
No post-dated cheques past the entry deadline are accepted. Any late payments must be by certified cheque or cash. No dancer can perform unless studio balances are cleared.
There is a $25.00 NSF fee.
GENERAL
Given our constraints in evaluating actual rehearsal time, This Is It trusts teachers to enter performances in the appropriate Competitive Levels. Routines that are obviously under-placed may be moved up a level at the discretion of This Is It directors. All decisions are final.

Any challenges or concerns regarding an entry may be made to the competition director by a studio director/teacher only, before the awards ceremony for that routine.

This Is It Dance rules are enforced with the goal of creating a fair competitive environment for all dancers.  If circumstances arise throughout an event which do not fall under the current rules, This Is It Directors/Management reserve the right to proceed as they see fit to best uphold the integrity of the event.